Our Lavender is grown in beautiful Elba, Cambria, and Wheatfield, New York. We're just minutes from Niagara Falls and the eastern most great lake, Lake Ontario. Our five and 25 acre fields include over 1,000 plants of English and Lavandula Intermedia lavender, as well as companion flower and vegetable fields.
The Lavender Life is a premier grower of organic lavender plants, distiller of lavender essential oils and handcrafter of organic lavender products right here on our

Farms 

in WNY

.
SHOP our STORE  as we continue to Grow!
&
Look for Us at
The Birth of Aromatherapy
In 1928, essential oil use began to emerge when French chemist Rene-Maurice Gattefosse used lavender oil to heal a burn on his hand. He then decided to further analyze the properties of lavender oil and how it could be used to treat other types of skin infections, wounds or burns. With this, the term "aromatherapy" was officially born.
Pre-Order Your Lavender Plants Now
Phenomenal Lavender for pick up in Mid July 2024
(set of 4  plants in 4 inch pots)
$32.95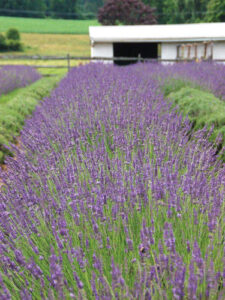 Phenomenal Lavender                                   $32.95 each set of (4)
Lavandula x intermedia 'Niko'
| | |
| --- | --- |
| Uses: Culinary/Medicinal/Aromatic/Industrial | Duration: Perennial (hardy in zones 4-9) |
| | |
A truly phenomenal lavender!
 Has all the beauty and all the brawn of the best in one plant! Adorned with beautiful long flower spikes typical of hybrid lavandins but also hardier than the toughest of the English varieties. Typically faster growing and produce longer stems and broader leaves than the augustifolia group. Phenomenal outperformed all other varieties tested across Europe and the United States - tolerant to extreme heat and humidity, while resistant to common root and foliar diseases. Its silvery foliage and uniform, mounding habit, makes it an excellent choice for ornamental use in gardens, for fragrance, for fresh and dried arrangements, and for oil production. Deer resistant. Varieties in the intermedia group are typically the latest to bloom, occurring right after those in the augustifolia group have finished, beginning in July until late summer. Ht. 60-80cm/24-32"
Unauthorized propagation prohibited. Protected by U.S. patent (USPP#24,193). Phenomenal is a U.S. registered trademark.
Purchase Soon Before We Are Sold Out For The Season!
I feel like we sell lavender, but we also offer hope.
Hope that there is an answer to some of our anxieties.  Hope that your sleep doesn't have to always suffer.  Hope that something will work without breaking the bank. Our Lavender Linen Spray is guaranteed to help!